Covid Has Transformed the Speaking, Coaching & Training Industries - Are You Ready to Evolve & Thrive?
Have you noticed?
Thought leaders on the cutting-edge are transforming into dynamic information entrepreneurs and versatile content creators in the post-covid speaking industry landscape. They are reinventing how they position themselves and do business, and expanding their careers in exciting new directions.

Until recently, speakers, trainers, coaches, authors, consultants and other specialized knowledge providers marketed their products and services in traditional ways. But as fundamental shifts in how they did business accelerated, many of these professionals struggled to navigate their way successfully through the evolving digital landscape.

Yet those leaders who started learning the skills necessary to thrive in the changing marketplace are dominating their fields and establishing lasting success. They are building a larger client and customer base, and are excelling as never before.

But if it's so obvious that the best way to improve your results is by gaining this crucial business knowledge, why isn't everyone reaching their goals? Why isn't everyone leveraging the professional development tools needed to succeed?

In short, why isn't everyone succeeding and achieving more these days?

Until now, professionals in the speaking, coaching and training industries have had no centralized place to learn these required skills. Without the opportunity to access the education and resources that would help them grow and adapt, they have simply gone without it!

But all of that is about to change...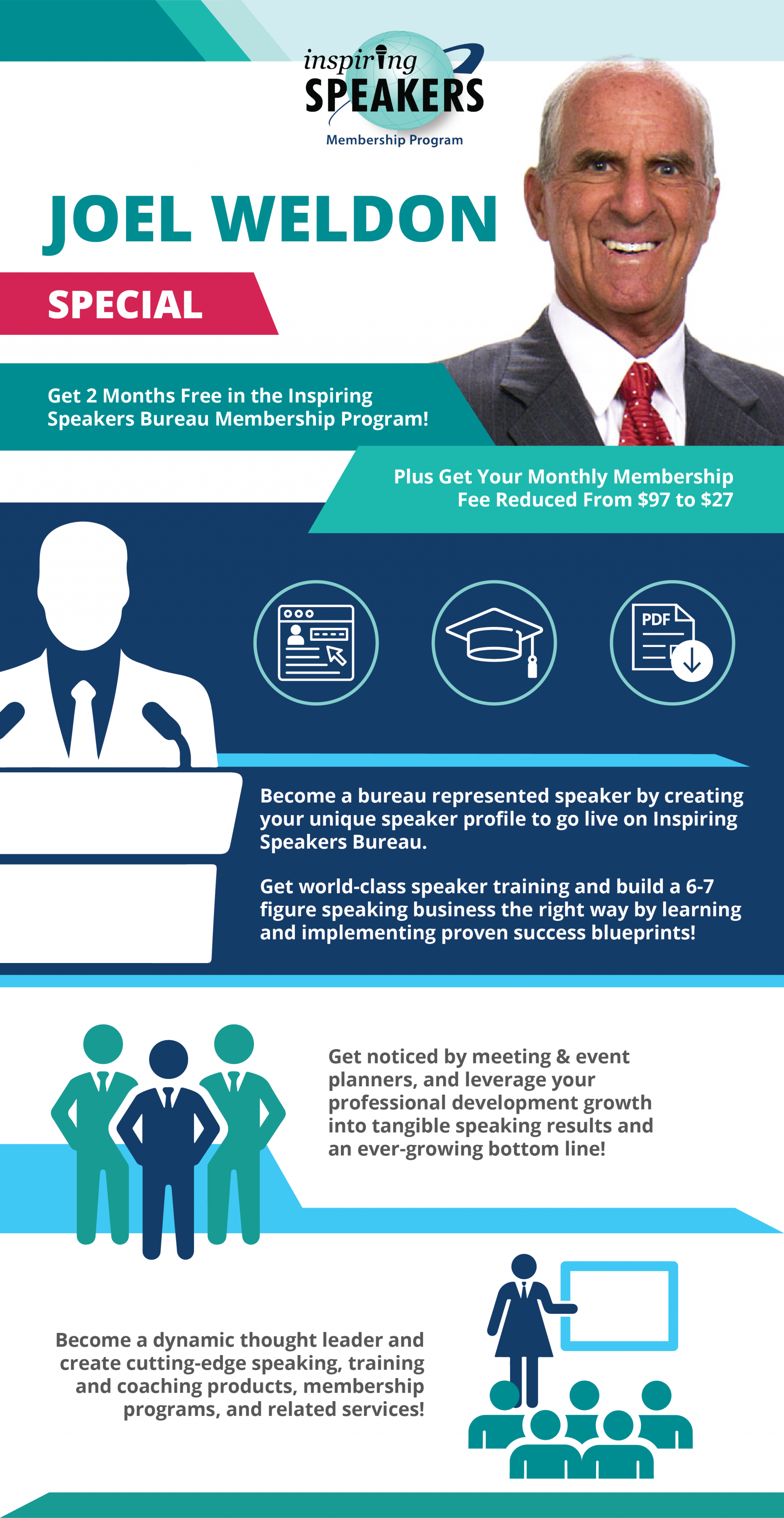 You'll Learn All About ...
How to Start a Speaking Business
Month after month new content will be made available inside the Inspiring Speakers Bureau membership area, giving you everything you need to transform yourself into a top speaker, influential thought leader and cutting-edge branded expert. Not only will you receive weekly video and PDF lessons exploring every facet of marketing for speakers, trainers and coaches, but you'll also gain access to powerful career-enhancing technology and growth services that will aid and accelerate your journey to building your bottom line and creating unshakable streams of recurring income!

"The Inspiring Speakers Bureau Membership Program has literally held me by the hand as I've built my speaking business from scratch. Gradually over a period of time it has covered pretty much every aspect of getting my business started as quickly and effectively as possible. The weekly delivery is perfect, allowing me to make real progress each week without getting completely snowed under! Thank you so much Inspiring Speakers Bureau for this invaluable, life-changing program."
MARK NEWEY
WWW.MARKNEWEY.COM
"Thank you Inspiring Speakers!

It has been a pleasure working together for our speaking event contracts, and I look forward to serving you and your clients again soon."

Les Brown, Hall of Fame Speaker

WWW.LESBROWN.COM
"Within the first two months of membership with Inspiring Speakers Bureau, I was able to sign a radio show, based on my book, Passion By Design, and have just been signed for another 12 weeks!I know without a doubt, the bureau representation & 6-Figure Speaking training system defined my intentions, gave me a course of action, and heightened my level of confidence. I plan on reviewing the lessons over and over to continue to layer my career with the richness of what this program offers."
Sandy Peckinpaw
WWW.PASSIONBYDESIGN.COM

"President Carter has asked me to express his gratitude to everyone at Inspiring Speakers Bureau, and sends his best wishes.

The Carter Center looks forward to hearing from you again for additional speaking engagement opportunities with your bureau."
President Jimmy Carter, 39th President of the United States

WWW.CARTERCENTER.ORG

Become a top speaker, expert & thought leader!



Attract more prospects and followers with high-caliber content

Establish a loyal and ever-growing subscriber and customer base

Persuade people to take action on your services and offerings

Make more money from everything you do

Create superior sites, products, and sales funnels

Foster career accelerating affiliate and joint-venture partnerships

Build your brand, lead your niche, and expand your audience

Reach your full potential faster and more easily than you ever thought possible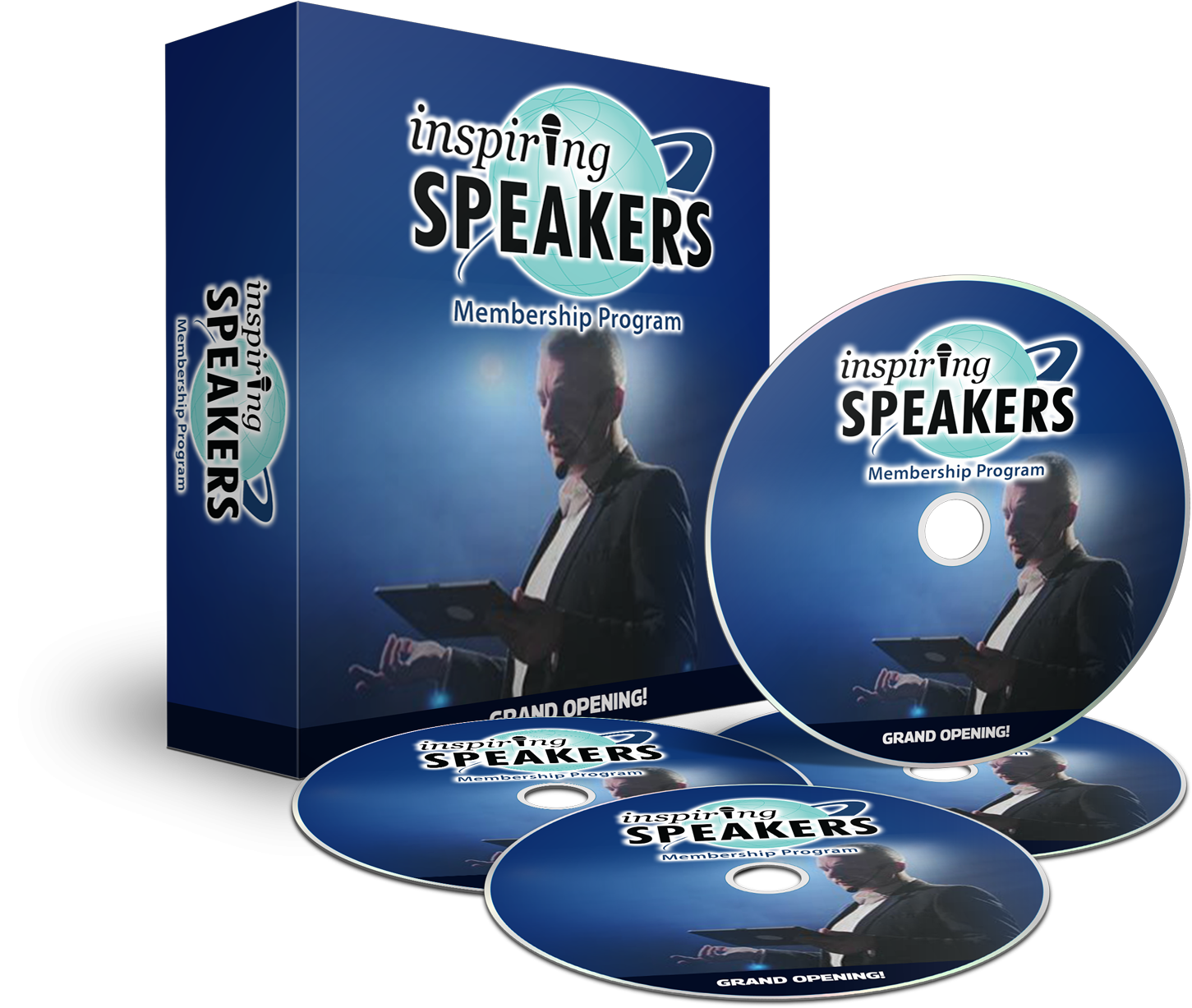 Created with